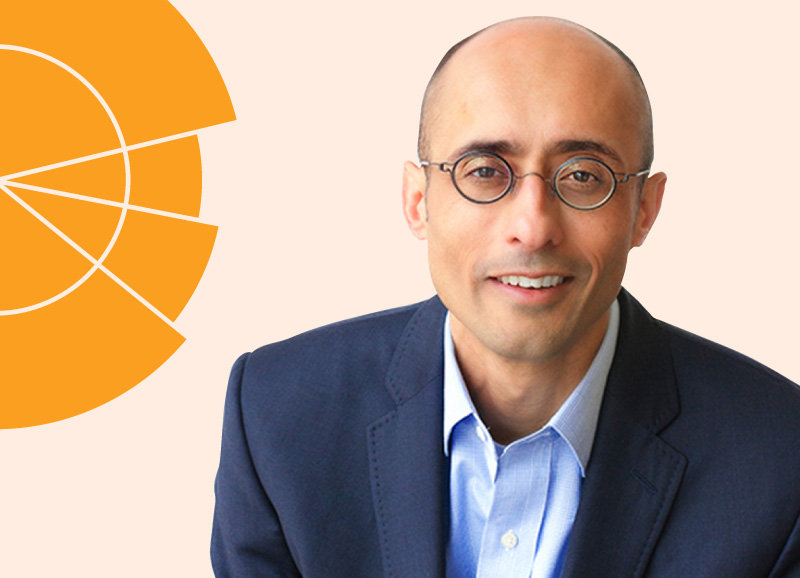 By Awais Sufi, President and CEO
A Few Reflections as Schools Reopen
Our educators know they must adapt to whatever challenge comes their way to ensure the success of their students. For educators in the urban core, the year 2020 advanced this need to a level previously unimagined. On the fly, our educators – together with their students, families and supporters throughout the community – had to forge new strategies to combat the technology divide, absenteeism, racial injustice, learning loss and many other factors that affect our most vulnerable students.
As multiple crises unfolded, my colleagues and I were amazed by the quick efforts our schools made, including:
– Immediately mobilizing to provide students and their families with needed food and other supports;
– Distributing laptops, tablets and hotspots to address a breathtaking digital divide;
– Supporting students as they grappled with stark demonstrations of racial inequity; and
– Finding creative methods to engage with students and show their support for both the life and learning challenges they were facing.
We have together felt deep concern and anxiety, but through our educators, families and students we saw the strength of the humanity that envelops us, helping us put one step in front of the other.
Then, as summer hit, there was more time for reflection on the work that is still left to do.
In those moments of reflection, I have learned a great deal about the strength of our schools and the passion of our educators. I have also learned a lot about SchoolSmartKC and our team and how our organization can and must pivot in times of crisis to meet the urgent and evolving needs of our schools.
As I think about this pivot, I cannot help but think about SSKC since its inception. I have had the enormous privilege of working with many of you over the last three and a half years, and you have been vital partners in building real pathways of progress toward closing the achievement gap. Prior to COVID-19, SSKC had committed close to $20 million in support to local schools and support organizations, and we were witnessing an exciting phase of improvement. The negative narrative around our public schools was beginning to erode, with the achievement gap between our local school system and the State of Missouri already narrowing by 5 percentage points, a movement of more than 20% of the overall gap we seek to eliminate.
In tandem, the foundation for a common, stronger future across district and charter schools was being built. Students and families across numerous schools are working with partners like Communities in Schools and Legal Aid to address out of school needs like mobility, homelessness, trauma and food insecurity. Our work with Show Me KC Schools has made significant strides in ensuring all families know about the local schools that serve them, and we have made amazing strides towards a fully unified enrollment system. A new collaborative has brought together high-quality Early Childhood Education providers with district and charter schools so that three and four-year-olds in the urban core can better access quality pre-K education to prepare them for kindergarten.  And we have helped empower parents and other advocates who now regularly make the case for high standards, consistent approaches to accountability and strong governance, all in support of our students.
These examples make me proud of our collective work as it makes our school system stronger for the future. But as schools return this fall semester, we understand our progress may take longer, or may be harder to measure, as a result of the COVID-19 crisis.
It would be foolish to think that we can accurately predict all of the needs that may emerge as we return to school. But like our educators, we are ready to adapt and pivot to meet the challenges before us. This recognition enabled us to rapidly release our COVID-19 Education Relief Fund in April, which provided over $1.5 million in funding for urgent technology needs and support for our most vulnerable students. We have also launched a second technology support fund for high poverty schools that is open for community contributions. We will continue to listen and thus position our resources to support evolving needs and build upon the progress that has been made.
We are already seeing new paths being blazed to address current and longer-term challenges. An area of particular focus will be working with our educators and students so they can maximize the benefit of new virtual learning approaches. To be clear, there is no substitute for in person instruction. But necessity is moving us to a path where technology and virtual supports should always be in place for students post-pandemic. And if we support our educators purposefully now, they will have a much better ability to leverage blended learning methods to enhance instruction and better meet individual student needs in the future. Another key area of opportunity is supporting our schools as they navigate new rules related to "course completion" and competency-based learning to show student attendance and school success. A competency-based approach has been shown to individualize learning and identify specific areas where each student needs more support or can be accelerated to the next lesson.  Thought through carefully, this is also the path for "real world learning" that our students need, with validated competencies turning into certifications and credentials needed for jobs and livelihoods in the new economy.
More promising than any specific educational approach is the deeper sense of partnership and kinship our community and schools feel. I have seen this in my dialogues with so many of you over the past months. We are truly in this together and there is no path out, except as one. This has fostered dialogue and conversation in ways previously not imagined, and we are seeing schools and school leaders looking to partner and support each other in new ways that will better us and our educational system.
And so, like at the beginning of every school year, as students and educators now return and greet each other through laptops and socially distanced protocols, we remain excited about the possibilities about a new start. We know there will be moments of anxiety, but underlining all these moments will be the hope and the budding opportunity that has been created by the resilience and collaboration of our schools, educators, students, families and community during moments of crisis.  And we look forward to working even harder with all of you to do whatever we can to help.