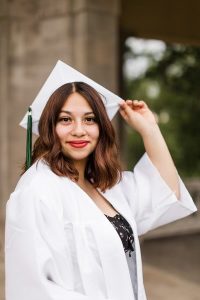 Jade Valdez
East High School
Class of 2021
Jade Valdez is a recent graduate of East High School and was a 2021 recipient of the Hispanic Development Fund Scholarship and is attending Avila University in the Fall. Born in California into a close-knit immigrant family, Jade is the oldest of four children and is a first-generation college student.
What were your experiences like as a student at East High School? Who impacted your journey the most?
I have had many experiences during my high school years at East. Moving here from California really changed my perspective of things. I've experienced good times and bad, but wouldn't want it any other way. East showed me the determination the teachers have to help you reach your goals. Even if I were struggling, my teachers would try anything they could to see me succeed. Someone who impacted my journey while I was going to East would be my counselor: she pushed me to be better and supported my decisions.
As the daughter of immigrant parents, what does it mean for your family to see you attend a prestigious, private college?
As a first-generation student, I can say that my parents were very supportive and proud of even choosing a university. I always said I wasn't smart enough for college, but now look at me: I'm going to a 4-year private university. My parents were always supportive of me with or without choosing college, but I think they are very proud because I made the decision to go to college myself.
You were a recipient of a scholarship through the Hispanic Development Fund – what difference has this made in life? What other resources and supports have you had here in Kansas City that have helped shape your journey?
Being awarded the Hispanic Development Fund Scholarship is when I figured out I'm smarter than I think. I never thought I would ever win a scholarship; I only saw those things on tv or with people in sports. This scholarship made me proud of myself and what I can do. With this scholarship, I met so many people that were supportive of me, for example my college mentor, Mr. Juan Rangel. I am incredibly grateful for him and Mr. John Kearney who introduced me to Mr. Rangel. These are a few of the people that made an impact on my life, made me feel that I can reach for the stars and to follow my dreams.
You are the first in your family to attend college – what words of support and encouragement do you have for your younger family members looking up to you?
Some words of encouragement I would give to my younger siblings and younger family members is that, always ask for help if you're stuck or if you need assistance – people are always willing to help. I would also say to not worry about what everyone else is doing, focus on where you need to be to be successful.