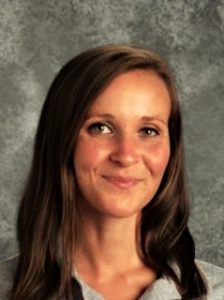 Megan Jefferson
Special Education Teacher
Kansas City International Academy
Megan Jefferson will be beginning her 9th year as a special education teacher this school year. She currently teaches at Kansas City International Academy (KCIA), where she is thankful to be a part of such a wonderful education community! Ms. Jefferson received a Bachelor of the Arts in Political Science from Rutgers University. She then received a Master's degree in Special Education from the University of Missouri- St. Louis. Recently, Ms. Jefferson completed a graduate certificate in Teaching English to Speakers of Other Languages (TESOL) from Missouri Western State University. Prior to teaching at KCIA, Ms. Jefferson had the joy of teaching in both Kansas City Public Schools (KCPS) as well as in Baltimore County Public Schools (BCPS). Ms. Jefferson taught for three at Benjamin Banneker Elementary School in KCPS in a self-contained classroom. She then moved to Baltimore, Maryland, where she spent three years teaching at Johnnycake Elementary School in a Communication and Learning Support classroom. Ms. Jefferson is an alumna of Teach for America, as well as the Green Fellowship; a two-year leadership development opportunity for Teach for America alumni. Ms. Jefferson is a 2018 National Geographic Grosvenor Teacher Fellow. As a Fellow, Ms. Jefferson gained new geographic and global awareness which she was able to bring back to her classroom and school community from a voyage to Alaska, British Columbia, and Haida Gwaii. Megan Jefferson is an educator passionate about helping all students share their voice with the world. She believes in the power of positivity, and constantly encourages students to recognize their strengths and the strengths of others.
What made you want to become a teacher? What does teaching bring to your life?
Throughout my life, I have had several outstanding teachers that truly made me love learning. They each brought their subject to life with innovative instruction and enthusiasm. In becoming a teacher, my goal was to make learning a truly joyful experience for others. Becoming a teacher was the realization of my dream to make a difference, and to ignite a love of learning as my teachers had for me. Teaching brings so much happiness to my life, and it is truly a joy to help others recognize how capable they are. I am so thankful for the amazing communities I have been welcomed to be a part of as an educator, and for the way those communities started to feel like family. One amazing part of teaching is that it provides the chance to integrate my personality into instruction and be innovative. It is not just what I do, it is part of who I am. Teaching brings a sense of purpose to my life and it has given me more than I could have ever possibly imagined.
 As a special education teacher, what are the biggest challenges you see facing our students? What should we be doing to support them?
In recent times, students, families, educators, schools, and communities have been asked to adapt as new variables continue to challenge us. The students in our classrooms today are constantly tasked with analyzing new information, during a period where the pace of change seems to continually accelerate. While change is happening, is it important to recognize we all simultaneously face unique obstacles in life and learning. Without the strategies in place to adopt an optimistic mindset, these shifts and challenges may leave students feeling overwhelmed. If this happens, learning may be a less joyful experience. For our students with diverse communication needs, expressing themselves, their needs, and their feelings fully amidst change can be an even greater challenge.
We must be deeply committed to prioritizing communication and showing students that we want to hear their unique thoughts and perspective. Along with communication support and resources, time should be dedicated throughout the day for social and emotional learning. This learning is proven time and time again to benefit students in areas including academics, relationships, and decision-making. By setting aside this time, we can provide students with the toolkit of positivity, perseverance, flexibility, determination, and self-efficacy when facing unique challenges. When we provide our students with the tools to work through these challenges and express their needs, we show them that how they feel is important to us. When we provide students with the space to leverage their strengths to overcome obstacles, they feel empowered and capable.
You were a Teach For America Green Fellow – what was it like to return to Kansas City under this program?
The Green Fellowship was a really amazing opportunity to support my development as a leader in the field of education. As a Green Fellow, I was able to connect with amazing professional educators across our region who continue to inspire me with the work they are doing in their classrooms and beyond. Together here in Kansas City, we had the space to think critically about a wide array of issues and challenges and work together to strategize effective solutions. Our monthly meetings included cohort discussions on topics of social ethics, as well as opportunities to connect with leaders in different areas including education, community service, social justice, business, and government. Being able to continually learn from so many exceptionally talented individuals in many fields has expanded my ability to consider a multitude of perspectives. The collective knowledge they shared from their experiences across the country and globe has truly made me a better teacher and advocate for my community. This Fellowship was an essential step in my growth to make a true and lasting impact in the field of education.
You were recently awarded the Excellence in Education award for an elementary school teacher; what did winning this award mean to you?
With so many excellent teachers across our city that I profoundly admire and aspire to be like, it was truly an honor to have been nominated for the Excellence in Education award. For 8 years, I have had the joy of teaching with so many incredible educators and staff members in three amazing schools. The gratitude and love I hold for them and all of our students extends beyond what I could ever express with words. The support and love I received as a finalist from my family, friends, school community, and the KC education community meant so very much to me. It is this support that fuels me to be a lifelong learner in this work and inspires me to find ways to celebrate the amazing things being done in our field. Thank you for welcoming me into your classrooms, for sharing your experience and expertise with me, and for challenging me to be the best version of myself. Thank you, for teaching me, every day.
What advice would you give to someone looking into teaching as a profession? Why would you encourage them to teach in KC?
The best advice I can share with someone looking into the teaching profession is to integrate joy into the fabric of your practice. Choose joy and optimism whenever possible. When you teach, present content like it is groundbreaking and exciting. Celebrate little successes along the path to mastery for your students and see magic in what may seem mundane to others. This is important because teaching is so much more than a job. It is a chance to make knowledge come to life in new ways for others. There is no greater feeling in the world than helping someone understand something new for the first time. Learning that lasts a lifetime makes students smile. It connects others with their culture, communities, themselves, and the environment.
Kansas City is home to thousands of educators who are eager to make a difference. There are also many professionals and community organizations across our city committed to helping students and their families thrive. Here in KC, I believe we recognize how collaboration can lead to success. We recognize that there are extraordinary educators in classrooms in every school in our city, and we celebrate that KC is a beautifully diverse place. Above all else, it is truly a joy to teach the wonderful students here in Kansas City. I encourage anyone looking into the teaching profession to check out how we are igniting change in KC!