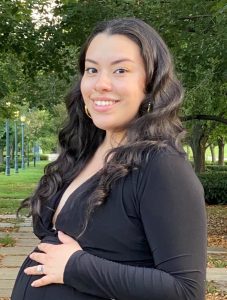 Susana Elizarraraz
Chief Community Officer
Latinx Education Collaborative
Susana Elizarraraz is a Kansas City native and educator. Susana's most recent role is serving as the Chief Community Officer for the Latinx Education Collaborative (LEC), an organization focused on growing and retaining the number of Latinx educators in Kansas City schools. The important work done by the LEC in increasing the representation of Latinx educators is essential for KC students, and for further enriching the quality education delivered in our schools.
Q1: What was your experience growing up in KC's Northeast area? How has this inspired you in your work as an educator and with the LEC?
Growing up in Northeast was the perfect childhood. There's very little I would change about the opportunity we had as kids to wholly be children. We played outside often, practiced our inventive imaginations, and learned to argue, negotiate, and be resourceful together. This innocence coupled with our exposure to true, beautiful diversity made for a well-rounded childhood experience. Going to school in the Northeast meant we were no strangers to ethnic, linguistic, and socio-economic diversity. No matter what groups you traveled in, you had friends that were immigrants, refugees, first-generation, second-generation and beyond.
The span of human experience in Northeast meant also seeing and experiencing many different forms of struggle as well. Though the financial and societal difficulties of those around us were evident, our neighborhood collectively built an attitude of resilience and acceptance. We experienced what some may consider out of the ordinary experiences, like violence and true poverty. These struggles were also very evident in our schools. I never noticed as a kid because I had nothing to compare it to, but in my journey to becoming an educator myself, it became strikingly obvious that schools in Northeast were under-resourced. It wasn't uncommon to have to share textbooks with classmates, to have long-term substitute teachers, and for our friends to come and go.
I ended up applying to and attending a small private high school in Kansas City. My own experiences, and the fact that many people went here from neighborhoods like Northeast, Argentine, etc. made me feel as though we were fish out of the water. I asked myself, 'what about school in our neighborhoods didn't work for us?'. I noticed that things in private school weren't all glitter and gold and, oftentimes, it highlighted our "deficiencies". This experience is what led me to become a teacher. I saw how our education system was failing students, kids who didn't have access to private schools, who didn't have the voices – or had their voices stifled – to speak up against the inequities happening in our schools. Our dissonance came out as anger and frustration, leading to suspensions and detentions. This inspired me to do the work I do today.
Q2: What has your journey been like to transition from classroom teaching to working for the LEC? Why did you make this move?
If I can be honest, it's been a little bit of a grieving experience to leave the classroom. I grieve my day to day experiences with kids and their families. It just felt right to be in a place where I could support those that felt least supported. However, since my days in high school, I've been on this journey of getting to know the ecosystem and landscape of education. This started in my experience as a student, but, as a teacher, I got to see the other side of inequities in schools and it wasn't something that I could ignore. A leadership type that I identify with is an "infiltrator" – someone who is working within a system to change it from within. I went into teaching thinking this would be me, however, witnessing the experiences of my students fueled the fire that already burned in me to fight for justice in schools, and I realized that to do the work I wanted and needed to do next, I needed to transition into a different professional role.
Working for the Latinx Education Collaborative meant that I could use the knowledge I had about the oppressive experiences of my students and do work to change it from the outside. In making this decision, I talked to many mentors and educators who had a wide variety of experiences to help guide me. Carmita Semaan, founder and President of the Surge Institute, of which I am a fellow, said to me, "as changemakers in education, we'll often dig wells from which we'll never drink". This helped me understand that though I wouldn't have my bucket filled day to day with experiences with kids, I'd be doing what's best to move the needle in the ways that I know how.
Q3: What are the challenges that LatinX educators are facing in schools? What resources and opportunities are available to help?
Latinx educators often face the challenge of isolation. We are a small percentage of the education workforce, 8% nationally, meaning that we have very few people in our schools and districts that have the Latinx experience. Along with this isolation is the issue of feeling overworked and underappreciated. Latinx educators who are bilingual are often tasked with translating for our classrooms and overall schools with no extra pay. We also often act as "cultural guardians" or "cultural translators" for our Latinx students and their families, adding on to the pressure of teaching.
The available resources for Latinx educators are scarce, but what my organization, the Latinx Education Collaborative, has seen is that Latinx educators crave and take advantage of opportunities for community. It is a great experience to be able to relate with and learn with other members of your community.
Q4: If you could achieve all your goals / missions at the LEC, what would the result be? What impact would that have for educators in Kansas City?          
The ultimate goal of the LEC is that we are no longer needed. Our mission is to increase Latinx representation in K-12 classrooms. We hope to see a day when the gap between the number of Latinx educators (8%) and Latinx students (25%) doesn't exist. As a Latinx educator myself, I had experiences with administration, families, and systemic issues that I felt very alone in. I had to handle much of these issues on my own, without the support of other like-minded educators. We hope that the impact the Latinx Education Collaborative has long term is that educators know us as their advocate and we lead and guide in making long term policy changes. Ultimately, in order for more Latinx educators to exist in our pipeline, we must evaluate the high school to college transition of our youth, the college experiences of our students, and the hiring processes of the school districts. We hope to be a part of every step of that work.
Q5: What advice do you have for the next generation of Latinx educators in Kansas City?
The advice I would have for the next generation of Latinx educators is to seek community. This is one of the mistakes I made as an educator – feeling alone and not seeking something different. Being the only Latinx educator, person of color, bilingual person, etc. in your school is often a somber experience. All educators want what's best for students and the only way we can seek that is by having our cups filled after we've put our whole selves into ensuring that the best is what our students get. A community of Latinx educators exists and we want nothing more than to see you and your students succeed.