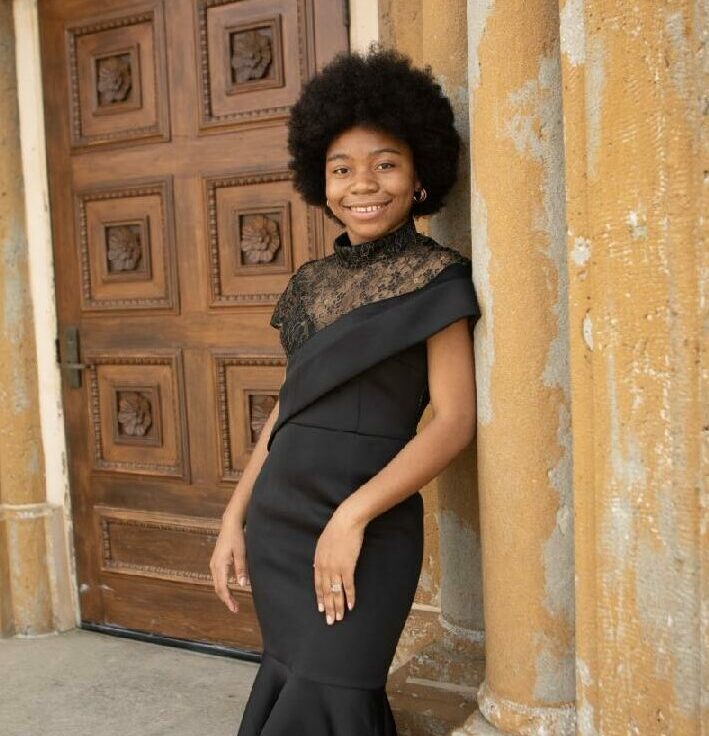 Mwajuma Bilombele
East High School, Class of 2022
Mwajuma Bilombele is a senior at East High School. Born in Tanzania, Mwajuma moved to Kansas City in 2016. Mwajuma has been a member of 20/20 Leadership since 2020, and was a KC Royals Charities All-Star Award Scholarship recipient in 2022.   She also participates in Green Works, Upward Bound, College Bound Bears Club, and the Green Guard Stewardship Program.  Mwajuma was the Captain of the East High School Women's Tennis Team. She serves as a math tutor, and she volunteers at Agape Pamoja to help refugee families each month.
Mwajuma plans to attend William Jewell College in the fall to work toward a degree in pre-optometry.  Afterward, she plans to attend the University of Missouri-St. Louis to obtain her Doctorate in Optometry.  Mwajuma has a lifelong goal to become an Optometrist.
What were your experiences like as a student at East High School? Who impacted your journey the most?
My experiences as an East High School student were full of excitement. Each school year, I get to try new activities and join new organizations which is helpful because I get to learn how to be a mindful leader. Since I am a person who wonders how things work, being a student at East allowed me to answer those questions with the help of organization leaders and members. 
Mr. King, my Algebra I teacher and tennis coach, impacted my journey the most. Not only was he a supportive coach and teacher, through his actions toward his students, I also learned how to be kind to every person around me. 
As a first generation immigrant to the United States, what has it been like moving from Tanzania to Kansas City? How has your move motivated you in your accomplishments?
Moving from Tanzania to Kansas City was a challenging and a stressful process.  However despite all the turbulence, I was glad I did move here. Coming to the United States has provided many opportunities for me which were impossible to achieve in Tanzania. Living in Tanzania wouldn't have allowed me to even think that one day I would become an Optometrist. I only had an impossible dream of becoming one, but being one was impractical since there wasn't even a college to attend in the camp where I lived. Therefore, getting the opportunity to attend college to become an Optometrist has been a blessing to me. So I always remember what I didn't have back home to remind myself that what I desired can be achieved with hard work and determination.
You were a recipient of the KC Royals Charities All-Star Award Scholarship – what difference has this made for you? What other resources and supports have you had here in Kansas City that have helped shape your journey?
Being a recipient of the KC Royals Charities All-Star Award Scholarship will allow me to focus on my education and not worry about my financial situation. This scholarship has also taught me to always remember that people are rooting for my success. Thus when things get hard, I will always recall that I am not alone in my journey. I have had the opportunity to join some Kansas City non-profit programs offered to students, such as 20/20 Leadership and Green Works.  They have helped shape my journey. In the programs, I was able to learn more about other students and those experiences have helped me learn more about myself. For instance, in the 20/20 Leadership program, I sometimes found it challenging talking through Zoom with other students during program days and on projects, especially when the camera was on. This forced me to step out of my comfort zone and put more effort into knowing how I can improve myself.
Your goal to become an Optometrist is inspired by your Grandmother – what impact has your family had in your life?
In my family, there are eight children. Since I was young, my parents always hoped that one day their children would change the world through the education we get. Their perspective on how a person should live their life by improving the life of others has enlightened me to be the best version of myself while being an example to my younger siblings. 
What words of encouragement do you have on how to get involved in activities that make a difference?
I would advise other students who are entering high school to ask for help, because your teachers are always there for you. And it's okay to ask questions that sound stupid since other students may also have the same question but don't have the same courage to ask. 
Getting involved in activities not only helped me relax my mind, but it was also a way for me to meet new friends. Therefore, I would encourage other students to join some activities in school because the people you meet during that time will be the people that help in school and in your life.
Finally, as you prepare to graduate from East High School, what would you say to the counselors, teachers, staff and students that supported you?
I am speechless.  There are no words that can describe how grateful I am to all the counselors, teachers, staff and students. Without your help, I don't think my high school experience would have been this exciting and memorable. Thank you for all the effort you put into helping me. 
Meet Abigail Kohout, Agreements Manager
SchoolSmartKC Announces New President and CEO
Profile in Leadership: Rhonda Erpelding, Harvesters