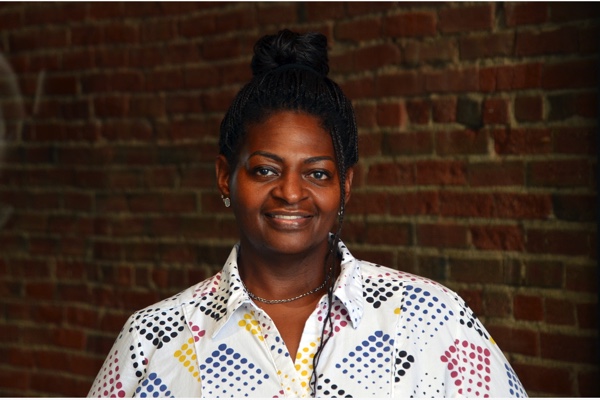 Tammy Buckner
WeCode KC /CEO
Tammy Buckner is the Founder of a minority women-owned technology solutions company. She also co-founded WeCode KC, an edtech program that trains, and mentors' youth and young adults from underrepresented communities in technology concepts to increase economic prosperity and equalize the technology playing field. As the CEO of WeCode KC, Ms. Buckner is a thought leader and a highly requested technology strategist and Innovative Systems Change speaker. She advocates for entrepreneurship and diversifying technology to close the black tech talent gap by making changes to the education system, preparing a pipeline of diverse tech professionals and promoting retention initiatives.
She's been recognized as a Community Builder to Watch in KC and is a recent graduate of the Executive MBA program at Rockhurst University.
What is WeCodeKC? What does the organization strive to do?
WeCode KC is a nonprofit that reimagines the intersection of technology and the educational system, creating revolutionary, out-of-classroom learning spaces that provide radical and transformational learning experiences. By developing innovative programming focused on cultivating 21st Century skills through technology focused project-based learning experiences, we address many of the disparities in the digital divide. Utilizing education as a vehicle for technology and activism, WeCode is driven in its desire to end inequitable systems while creating opportunities and access for underserved communities.
What was your personal journey to founding WeCodeKC? What motivated you in this work?
As a self-taught software engineer, project manager and a business systems analyst, I didn't see people in the tech space that looked like or represented me. I saw very few women and even fewer blacks in the technology industry and I wanted to make a difference. I shared my ideas with my business partner, and he provided suggestions of how he implemented a similar coding program in another state. His program motivated and encouraged me to start WeCode KC.
Tell us about the importance of Real World Learning; what difference do Real World Learning programs make for students in Kansas City?
We are passionate about unleashing scholars' potential through the lens of technology, and providing an opportunity to experience real-world situations. This allows them to incorporate the code they learned and know that it is working to solve a problem. Using technology to solve real problems encourages students to develop a deeper passion and understanding of the tech knowledge and critical thinking skills.
WeCode wants people to recognize and appreciate the natural genius and talent in cities like Kansas City and to match opportunities to students' passions— connecting talent and passion with resources and opportunity. Providing access to durable essential skills, entrepreneurship, internships, and scholarships if pursuing college.
Many of the students who participate in WeCodeKC come from underrepresented student populations or underserved schools – what does it mean to these students to be able to access a program like WeCodeKC?
WeCode's services are transformational, not only because students from underrepresented communities are normally shut out of the technology industry. Now they can obtain a visible technology experience and a long-term source of positive educational engagement, but also because they gain financial capabilities to share with their loved ones, ending the cycle of poverty.
WeCode utilizes IT culture to end the cycle of poverty, disrupt the prison pipeline, and build bridges in communities through STEM education and career opportunities. Since launching in 2017, we have been instrumental in changing the narrative around the urban core student's ability to lean into technology, serving over 2,000 students and hiring coders, instructors and volunteers that represent our students. Representation matters.
As a Black, female leader in STEM, what advice would you give to young entrepreneurs looking to make a difference in education?
I would advise young entrepreneurs looking to make a difference to determine what success means to you, write down specific SMART goals, share them with someone that will hold you accountable, FOCUS and work your plan. Don't be afraid to ask questions, don't be afraid to fail, but fail fast so you can pivot if something is not working after a period of time. Stay consistent because the seeds that you will plant will harvest in the right season. In addition, find a support group, organization or others that you can learn from and safely share your thoughts and challenges. Most importantly, always keep God first.
What's next for WeCodeKC? How can the KC community support you?
WeCode's 2023 goal is to curate transformative, technology experiences by implementing after and out-of-school time tech programs across the education system. Experiences that empower scholars to create positive systemic change. The community can help in three ways: volunteering your time, donating or sharing our information.
Meet Abigail Kohout, Agreements Manager
SchoolSmartKC Announces New President and CEO
Profile in Leadership: Rhonda Erpelding, Harvesters