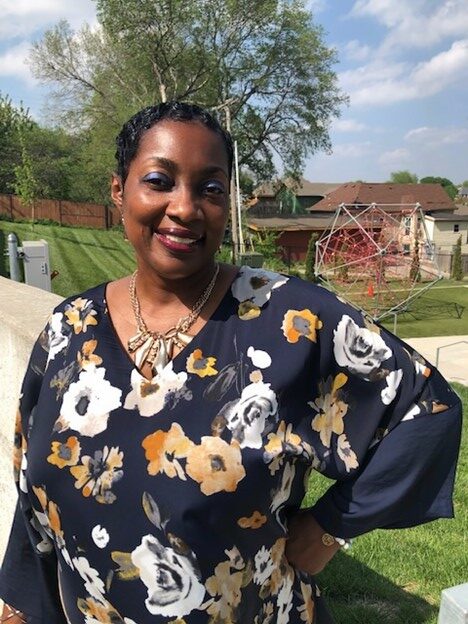 Wadandra L. Lenox-McBride
Kansas City Engagement Advocacy Roundtable (KC EAR), Chairperson
Wadandra has been married for 30 years to a very supportive husband, named Waymon. She is a devoted, loving wife and mother of two daughters, Aliyah and Ashley. 
Wadandra's ultimate goal always is to help each Family member develop to their fullest potential, utilizing the special gifts and talents God had given them. Aliyah, Master Degree in Communication Studies at Missouri State University. Ashley, Bachelor of Arts Liberal Education at Langston University.
Before children, Wadandra's profession was Retail Sales serving adults. "Now I am serving the youth, it's amazing how life comes full circle" she stated.
What is your personal journey into Family Engagement centered work? What called you to serve in this way?
I had been a Homemaker for 15 years and was no stranger to Charter Schools, KCPS Signature Schools, and a Roman Catholic School. As a parent having to navigate and seek the best fit educationally for two very young intelligent black females. Whose daughters' learning styles, personalities, and leadership qualities weren't the same and the end result of them having received a quality education. Also, with an expectation of the foundation being laid in preparation of higher education. My favorite thing to do was be actively engaged at the school level. The teachers and staff knew me by name, always presented me with a volunteer opportunity and if my daughters overheard a staff member's conversation of needing help, they would sign me up saying, "my mother will volunteer." During their Elementary school years, I was volunteering my services until the Family Outreach Coordinator position got filled. That is when I got called into the Principal's Office. The Executive Director and Principal asked me to apply for the position. Long story short, I applied, interviewed, and was hired. I got a job and wasn't even looking for one. Words of wisdom to the youth. No matter what you're doing, do your best. You never know who's paying close attention to you or who they know, that might usher you right on in. So I contracted out my services for a few months, gave them 3 excellent years in addition to until I received a telephone call. A Superintendent from a larger District saying, "you were highly recommended for this position and I need you to apply for it." I wanted to grow professionally in this transition, serving over 1,000 students and the mission was accomplished.
The Holy Spirit called me to serve in this way by saying, "God's going to bless you and I need you to walk in this blessing." I said, yes and have been seeing signs, wonders, and miracles with Families throughout the years. I've had people ask "why do you keep assisting that Mom?" I am clear about "it's about the children." My response is they need to know that Mrs. McBride didn't give up on them. Because she knew that one day they'd have a testimony, a success story to share. Knowing that she made the difference in their lives and now they can pay it forward for those that came up afterwards. That is my "why"
How did KC EAR get started? What did you set out to achieve?
The light bulb came on, and I realized that we're all serving the same Families. The District may have a high school student that is the sibling to my middle schooler. The word on the street was Charters and the Districts didn't get along, they were rivals. Well KC EAR sure put that myth to rest. Kansas City Engagement Advocacy Roundtable (KC EAR) was born May 7, 2018. 
Basically, we are a group of Family Practitioners from the local Charter Schools, Kansas City Public Schools, and Community Organizations that share best practices to serve, engage, and support our families in a better way. We meet monthly from 12-1:30 PM. to share resources and problem solve to address the needs at our schools and the community. We sincerely appreciate the support that SchoolSmartKC has consistently, so willingly to provide their beautiful space to help KC EAR collaborate in-person during the pandemic.
What has come from the collective work done by KC EAR? What does it mean to be able to get together with other Family Engagement professionals across different schools?
The collective work done by KC EAR is to strive for parent engagement, and tend to lead with our ears listening to what parents think, dream, and worry about. We begin by giving parents resources, inviting them to activities and helping them monitor their children's progress. We learn from one another, share resource information, and help improve our Families lives.
To be able to get together with other Family Engagement Professionals across different schools is so rewarding. It's the best thing to fellowship and allow you to be yourself. You can enter the space with no fear or judgment. This kind of transparency breeds amazing friendships.
Why is Family Engagement so important to the success of our students?
When there's a School-Family Partnership students will invest in themselves with a high attendance percentage, learning to set goals and achievements, improved test scores and increased grade point averages. Developing a lifelong love of learning, self-esteem and graduation rates rise, too.
What advice would I have for any young professional entering this work?
I would advise any young professional entering this work, to have a love for people, developing and building relationships are key for you, having a servant mentality, willingness to eliminate barriers for Families and don't be in it for monetary gain. I've served Families for 12 years now. I've been paid really good money; I've been paid a lot less money; I've even been offered whatever I wanted in a salary and I had to express to my husband that I was flattered with the offer. However, I didn't want to go home crying to him everyday saying "I hate my job." Therefore, I expressed my regrets to the organization. Young professionals have compassion, patience and understanding. Crisis doesn't happen between 7:30-4:00 PM. So be ready to serve, serve each time in a better way and you will reap the rewards in the success of the students and families. Last but not least be mindful and carve some time out of your day for you…self-care. Self-care is not being selfish, you must refresh & renew.
Meet Abigail Kohout, Agreements Manager
SchoolSmartKC Announces New President and CEO
Profile in Leadership: Rhonda Erpelding, Harvesters