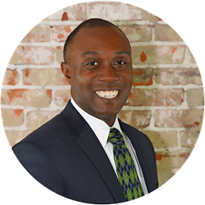 Charles King
President & Executive Director, Kansas City Teacher Residency
As SchoolSmartKC works to celebrate strong educators across our education ecosystem, and foster the next generation of educators, we are delighted to highlight the work of Charles King, President and Executive Director of the KC Teacher Residency. The Kansas City Teacher Residency (KCTR) takes passionate individuals who want to join the teaching profession and trains them to become effective teachers in urban schools. Fashioned after the medical school residency model, KCTR allows teacher residents to hone their teaching skills in a master-teachers' classroom for an entire year, while also earning their certification. 
Q. How long have you been in the education field? What ignited your passion for education?
A: I am entering my seventeenth year in the field of education, all of which has been working in and supporting urban communities. My passion for education was ignited when I was a senior at Morehouse College working as a tutor at an elementary school in Atlanta. Seeing the excitement and confidence that was built in the students once they accomplished a challenging math problem, and the great conversations that we would have about school, life, college, and my experience growing up in New England, inspired me to continue the journey by joining Teach For America in Houston, Texas. In my thirteen years in Houston, as a teacher and a school leader, I had countless experiences just as the one I had when I was a senior in college. The small moments with students in and outside of the classroom are transformative and open an array of opportunities for them.
Q: Where do your teacher resident candidates come from primarily? What's their main reason for wanting a career switch?
A: KCTR residents primarily come from the Kansas City metropolitan area. Those who are not from the metro area are typically moving to the Midwest or have connections to the metro area. Candidates who are interested in the KCTR program have usually had a desire to teach and have typically been looking for a program that best meets their needs. The residency model affords individuals with a gradual transition into owning their own classroom. The extensive clinical experience, coaching, and support that individuals receive, contribute largely to the reason why people feel good about making the transition.
Q: What are KCTR's latest endeavors in teacher recruitment and placement?
A: KCTR is always exploring opportunities to innovate and enhance the program to ensure that more teachers are prepared, developed, and retained in classrooms. One initiative that KCTR launched this year is a new partnership with the University of Missouri, Kansas City (UMKC) School of Education. Through this partnership, KCTR and UMKC will develop a master's degree program track that will complement KCTR's certification coursework. In addition, KCTR is looking to collaborate with several organizations in Kansas City including the BLOC (Brothers Liberating Our Community), the Latinx Education Collaborative, and KC EdCollective all in an effort to continually recruit and retain a diverse and innovative teaching corps in classrooms.
Q: Where do you see KCTR in 10 years?
A: KCTR is committed to increasing the number of classrooms in Kansas City that are led by a highly-effective teacher who is representative of the communities in which we serve. When I think about KCTR in 10 years through that lens, I think about the fact that more than 500 educators will have completed our program and will be serving throughout the metro area. In the end, the students in their classrooms will benefit from their teacher's preparation and commitment to the classroom, and as a result, change the trajectory of student achievement in our community.
This content was originally published by SchoolSmartKC on 08/21/2019