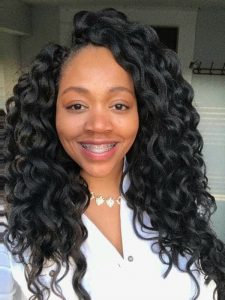 Dr. Kia Turner
CEO, Red Apple Education Corporation
September is National Attendance Month, and SSKC is excited to feature Dr. Kia Turner as our Profile in Leadership for September. Dr. Kia is the CEO of Red Apple Education Corporation, an organization she founded following notable roles at Kansas City Public School District, Park University, and The Kansas City Teacher Residency. Dr. Kia has spent the past school year working with local school districts and non-profit organizations, including SchoolSmartKC United Way of Kansas City and Turn the Page KC, to change the narrative around student absenteeism in Kansas City. Her work has allowed her to get an up close view of the student and parent experience – knowledge that she uses to help district partners fully audit their resources and maximize their internal capacity.
Q1: What are the current issues facing KC schools? What work is being done to help support our most vulnerable students?
In my opinion, KC Schools are facing a crisis like none before and as a result, our efforts to build meaningful connections have been redoubled. I am seeing educators and school systems put themselves more fully into the work of educating all students equitably. That means that internal systems are being reevaluated and experts are being brought in to answer tough questions like Are all children seen, safe, and respected in this school? Are all students given equal access to resources and all being held to high expectations? Are we approaching the communities and families we serve with an asset-based mindset or are we entering each new interaction expecting the worst? Are our teachers being trained to be sensitive and responsive? Have they checked their own internalized bias and trauma?
These are weighty issues to say the least. I believe that as we navigate this "new normal" and work to ensure that our most vulnerable students and families aren't lost, we are taking a fresh look at old issues. The beauty in that fresh perspective is that it elevates our most vulnerable students and allows us all to show up and do the work we signed up to do, use education as a force for positive change.
Q2: You have a lot of experience in absenteeism – how has this been impacted by the last six months?
I think that the last six months have revealed just how important it is that parents be partners with schools. When we all shut down for COVID19 in March, I don't think that any organization was prepared for the breakdown in school to home communication that many experienced. Suddenly, schools realized that they have to more to form meaningful connections with families. They couldn't just participate in a one-way relationship; instead, parents had to be invited into schools as equal participants in order for learning to happen at all. The crisis schooling that happened from March to May of 2020 revealed just how far out of touch we had fallen and how ineffective our current systems were. As the 2020 school year begins, schools have redoubled their efforts to build those key bridges between home and school. I haven't met any school system that is only communicating with parents through one medium. We are changing our approach, changing our perspective, and as a result, changing our outcomes.
Q3: What does it take to lead change in education? What advice would you have for other professionals looking to start their own change organization?
I think it takes humility and heart to lead real change in education. We have to be willing to admit that we are human and don't have all of the answers. We also have to love the children and families we serve. It is difficult to be humble in the face of criticism, especially when you did all that you knew to do. That my friends is leadership. Still, I would recommend that those looking to bring change to their organization start with humility and heart. You may have to remain humble in the face of a system that is flawed and uninterested in your change efforts. Keep going anyway because your time will come. On days that the work is difficult and you sit in the parking lot (as I did) wondering if the work you are doing makes a difference at all, love real sacrificial love for the people you love will sustain you. When your "why" is connected to your heart you can't fail. You may get tired. You may feel discouraged, but you can't fail. I know this from experience.
Q4: What accomplishment are you most proud of in your career?
I am most proud of being brave enough to become an entrepreneur and use my business as a platform to serve the kids and communities that I love so much. I spent years doubting my vision and wondering when (or if) my door would open. I have been a classroom teacher, instructional coach/unofficial administrator, new teacher trainer and full on professor of education. In all of those roles I felt that there was more for me to do. When the time came for me to step out on faith and trust that what had been put inside of me could be of use to the community I live in, I was scared but I took the leap. After a few months of freelancing, I formed my company, Red Apple Education Corporation and never looked back. Now I consult with people I couldn't have imagined meeting with before. I am able to lend my voice to conversations that would not have been on my radar before. I can show up for the community that I come from and be sure we are represented. That in itself is a gift. Most of all, I am grateful to God because had He not allowed me to go through what I have been through, there is no way I would have been prepared for who I am right now.
Q5: What's next for you? Where are you focusing change in the next 12 months?
Overall? I want to expand my work. I still have that "not doing enough" feeling! I want to do more to help school districts reach their underserved populations for attendance and for real engagement. I want to help districts meaningfully engage all members of their communities and build out the infrastructure needed to define and sustain that change. I want to lend my voice and my lens to those new initiatives and strategic plans that are designed to get certain outcomes but lack the voices they need at the table. I want to help usher in a new era in schools where we lead with our hearts and keep people at the forefront of our interactions. I want us to grow our teachers and provide opportunities for them to be challenged so that they can do the same for our students. It feels so big and so wide! I am not sure how I will get there but then again, I wasn't sure how I would be here either.