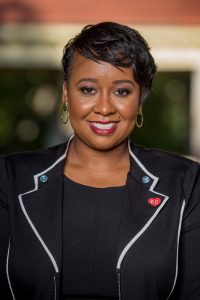 Dr. Cokethea Hill
CEO and Founder, BLAQUE KC
Cokethea Hill is an innovative collaborator with over 15 years of experience working in the non-profit sector organizing communities, building collaborative partnerships, and strengthening assets in low- income urban communities. Known for her strategic approach, Cokethea has a keen ability for building relationships and mobilizing others towards an identified goal. 
Cokethea has served on Kansas City's City Council, The Kansas City Public School Board, and as an ambassador for the Kauffman Center for Performing Arts. In addition to serving as CEO of her organization, BLAQUE KC, Coketheais the Board Chair for the Urban League of Greater Kansas City, Vice Chair of The City Planning Commission (KCMO) and serves on the board of the Urban Neighborhood Initiative (UNI), and Turn the Page Kansas City.
A native of Kansas City, she earned her undergraduate degree from Central Missouri State University, a master's degree in Counseling Psychology from Avila University, and a Doctoral degree from the University of Kansas in Educational Leadership and Policy Studies.
Who is a Black hero or heroine that has motivated you in your career? / Who are you celebrating this Black History Month?
It has been said that Marian Wright Edelman "fights for a level playing field for all children, so their chances to succeed don't have to depend on the lottery of birth". In many ways her work has shaped my life and career. Edelman is the founder and president emerita of the Children's Defense Fund (CDF), the nation's strongest voice for children and families working "to ensure every child a Healthy Start, a Head Start, a Fair Start, a Safe Start, and a Moral Start in life."  In 1995, CDF launched Freedom Schools, a summer and after-school literacy program inspired by the 1964 Mississippi Freedom civil rights project, which created schools focused on organizing African Americans to achieve social, political, and economic equality. As a college graduate, I volunteered with my church, which hosted Freedom Schools through a partnership with Kansas City Freedom Schools and the Kauffman Foundation.
Many years later, Kansas City's Freedom School's impact became the focus of my dissertation, which analyzed years of Freedom school literacy data to examine if a relationship exists between culturally relevant pedagogical practices and a students' sense of belonging and connectedness to school and if this connectedness impacted literacy development. Based on the findings of my dissertation, and countless other studies affirming the importance of culturally relevant pedagogy and its role in improving the achievement of Black children, my firm, BLAQUE KC is interested in forming a partnership with the Children's Defense Fund to create Freedom School hubs as our community navigates summer learning options amid the COVID pandemic.
How has the history of Black and African American people in Kansas City impacted the work that you do?
While their stories may not have been published, Kansas City has a rich history of African Americans fighting for quality education. Historically, when you look at African American population data in Missouri in the mid-19th century, African Americans established roots in communities we would designate as rural. Why? Agriculture and farming were the economic driver for many Black families back then. However, education soon became a lead driver in African Americans migrating to more urban areas such as Kansas City and St, Louis. In Kansas City my alma mater Lincoln High School (now Lincoln College Preparatory Academy) was the only school that offered a high school experience for African American children in the Kansas City area. Since the enslavement of African people, education has always been inextricably linked to freedom, justice, and a better quality of life. Our ancestors and our elders did not risk their lives for us to be satisfied with mediocrity in education. This is what fuels my passion!
What is the most essential work that must be done to ensure equity for Black students in Kansas City?
We need greater transparency and access to educational data beyond student performance. We have to be honest when presenting data and engaging in dialogue about the current educational state of schooling for Black children and interrogate every facet of our school system that prevents children from thriving and achieving at high levels. This will allow us to engage in authentic and honest dialogue with families and community partners so that we can center innovative solutions on what is best for the kids our school systems overwhelmingly fail.
What is a cause or organization that you would encourage KC citizens to research this black history month?
I have poured my heart, sweat, tears and experience into creating BLAQUE KC. I know many Kansas Citians want to see positive changes for the Black community – whether it is in criminal justice, employment, or entrepreneurship. But it all starts with education. I would encourage anyone who wants to make a difference to consider engaging with BLAQUE KC as we advocate for better outcomes for Black students.